Login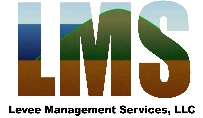 Company Info

Corporate Address

7070 Knights Court, Unit 103
Missouri City, TX 77459
281-240-6454 ofc
832-886-4959 fax

Levee Management Services, LLC is locally owned and operated from Sugar Land, TX.

LMS, LLC provides in-house services and state of the art technology that brings you real-time data to the Boards and consultants of your LID. LMS,LLC provides a direct link to the County EMS through increased technology, communication, and personnel support.

LMS,LLC only focus is providing the best in levee maintenance and support. LMS,LLC does not operate MUD Districts or other services, which allows to focus on you, our customer.

Welcome to Levee Management Services, LLC.

Copyright 2022 Levee Management Services, LLC
7070 Knights Court, Unit 103
Missouri City, TX 77459

Levee Management
Services, LLC